SAS Stat Studio 3.1: User's Guide [Add to favorites]
Describes how to use the Stat Studio GUI to conduct exploratory data analysis and standard statistical analyses.
http://www.paid4share.net/file/9265/9781599943183-1599943182-rar.html
Dernière édition par Admin le Sam 22 Nov - 13:41, édité 1 fois
Basic Statistics Using SAS Enterprise Guide: A Primer
This guide is an excellent introduction to SAS Enterprise Guide for users new to Enterprise Guide, new to statistics, or both. A user stepping through all the examples in this book would end up being exposed to many different types of data and a variety of commonly-used statistical techniques, from t-tests and Fisher's Exact Test to logistic regression and survival analysis. Throughout, the emphasis is on good statistical practices - looking at the data, thinking about what questions to ask about the data, and then using statistical methods to address those questions. The examples provide excellent illustrations of how to use Enterprise Guide to accomplish these tasks at just the right level of detail, and it is obvious from the context how to extend the examples to more complex situations. This book is recommended for anyone who wants to learn the basics of SAS Enterprise Guide for statistical analysis." --David J. Pasta, Vice President, Statistics & Data Operations, ICON Clinical Research
http://www.paid4share.net/file/5380/9781599945736-1599945738-rar.html
SAS/Genetics 9.1.3 User's Guid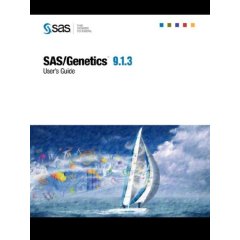 SAS/Genetics is a collection of SAS procedures along with a SAS macro specifically designed for the statistical analysis of genetic marker data. This guide is intended to provide you with the statistical genetics background and the procedural syntax needed to use this software, as well as examples showing some common applications of the methods in these procedures. This title is also available online.

http://www.icefile.info/index.php?page=main&id=95c181002&name=1590478428.rar
SAS For Dummies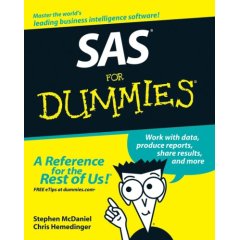 Created in partnership with SAS, this book explores SAS, a business intelligence software that can be used in any business setting or enterprise for data delivery, reporting, data mining, forecasting, statistical analysis, and more
* SAS employee and technologist Stephen McDaniel combines real-world expertise and a friendly writing style to introduce readers to SAS basics
* Covers crucial topics such as getting various types of data into the software, producing reports, working with the data, basic SAS programming, macros, and working with SAS and databases
http://www.icefile.info/index.php?page=main&id=695d41651&name=0471788325.rar

---
Permission de ce forum:
Vous
ne pouvez pas
répondre aux sujets dans ce forum