Régression: Théorie et applications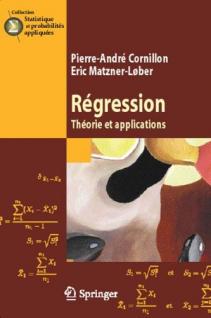 Cet ouvrage expose de manière détaillée, exemples à l'appui, lune des méthodes statistiques les plus courantes : la régression
editeur:springer
auteur :Pierre-André Cornillon, Éric Matzner-Løber
paru le :2006-12-07
Nombre de pages : 302
Format : PDF
taille :4.7 mo
lien :
rapidshare.com R_gression.pdf
Dernière édition par Admin le Sam 22 Nov - 13:36, édité 1 fois
Schaum's Outline of Statistics and Econometrics
Fortunately for you, there's Schaum's Outlines. More than 40 million students have trusted Schaum's to help them succeed in the classroom and on exams. Schaum's is the key to faster learning and higher grades in every subject. Each Outline presents all the essential course information in an easy-to-follow, topic-by-topic format. You also get hundreds of examples, solved problems, and practice exercises to test your skills.

This Schaum's Outline gives you
Practice problems with full explanations that reinforce knowledge
Coverage of the most up-to-date developments in your course field
In-depth review of practices and applications

Fully compatible with your classroom text, Schaum's highlights all the important facts you need to know. Use Schaum's to shorten your study time-and get your best test scores!
http://www.paid4share.net/file/7384/0071348522-rar.html
4MB
Introductory Econometrics: A Modern Approach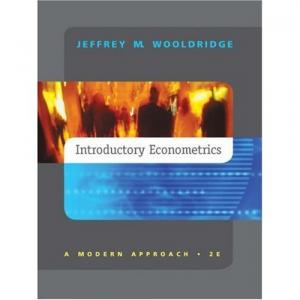 Econometrics has moved from a specialized mathematical description of economics to an applied interpretation based on empirical research techniques - and the modern approach of this innovative book is proof. Introductory Econometrics bridges the gap between the mechanics of econometrics and modern applications of econometrics by employing a systematic approach motivated by the major problems currently facing applied researchers. Offering a solid foundation for social science research, the book provides important knowledge used for empirical work and carrying out research projects in a variety of fields.
http://www.paid4share.net/file/6833/9780324113648-0324113641-rar.html
3MB
Econometrics
This textbook teaches some of the basic econometric methods and the underlying assumptions behind them. It also includes a simple and concise treatment of more advanced topics in spatial correlation, panel data, limited dependent variables, regression diagnostics, specification testing and time series analysis. Each chapter has a set of theoretical exercises as well as an empirical illustration using a real economic application. These empirical exercises usually replicate a published article using Stata or Eviews.

The 4th edition updates identification and estimation methods in the simultaneous equation model. It also reviews the problem of weak instrumental variables and illustrates with an example on crime using Stata. Moreover, it updates panel data methods illustrating dynamic panel data methods with Stata using dynamic demand for cigarettes in US states. Other chapters that are updated with empirical examples include the limited dependent variable chapter.
http://www.paid4share.net/file/5339/9783540765158-3540765158-rar.html
4MB
The Econometrics of Macroeconomic Modelling (Advanced Texts in Econometrics)
Macroeconometric models, in many ways the flagships of the economist's profession in the 1960s, came under increasing attack from both theoretical economist and practitioners in the late 1970s. Critics referred to their lack of microeconomic theoretical foundations, ad hoc models of expectations, lack of identification, neglect of dynamics and non-stationarity, and poor forecasting properties. By the start of the 1990s, the status of macroeconometric models had declined markedly, and had fallen completely out of, and with, academic economics. Nevertheless, unlike the dinosaurs to which they often have been likened, macroeconometric models have never completely disappeared from the scene. This book describes how and why the discipline of macroeconometric modelling continues to play a role for economic policymaking by adapting to changing demands, in response, for instance, to new policy regimes like inflation targeting. Model builders have adopted new insights from economic theory and taken advantage of the methodological and conceptual advances within time series econometrics over the last twenty years. The modelling of wages and prices takes a central part in the book as the authors interpret and evaluate the last forty years of international research experience in the light of the Norwegian 'main course' model of inflation in a small open economy. The preferred model is a dynamic model of incomplete competition, which is evaluated against alternatives as diverse as the Phillips curve, Nickell-Layard wage curves, the New Keynesian Phillips curve, and monetary inflation models on data from the Euro area, the UK, and Norway. The wage price core model is built into a small econometric model for Norway to analyse the transmission mechanism and to evaluate monetary policy rules. The final chapter explores the main sources of forecast failure likely to occur in a practical modelling situation, using the large-scale nodel RIMINI and the inflation models of earlier chapters as case studies.
http://www.paid4share.net/file/1908/0199246505-rar.html
2MB
Ruey S Tsay - Analysis of Financial Time Series (Financial Econometrics)
Excellent ouvrage qui traite le domaine des séries temporelles et économétrie sous l'angle financier. L'auteur, à travers 10 chapitres allant du modèle linéaire simple aux modèles de volatilité multivariés, développe tout les concepts et les connaissances de base pour les futurs modélisateurs des financial time series .

De nombreux exemples basés sur des indices boursiers américains sont résolus et leurs résultats commentés, le tout avec une très bonne interprétation. Le lecteur trouvera également quelques exemples de programmation sous RATS.
http://www.paid4share.net/file/11692/R-Tsay-Analysis-of-Financial-Time-Series-pdf.html



Messages

: 10


Date d'inscription

: 18/11/2008




---
Permission de ce forum:
Vous
ne pouvez pas
répondre aux sujets dans ce forum